Airports are a high demand area for highest security. Here We offer a range pof sensors and solitions tpo increase security a lot compared to what most airports offer today. This included Home Land securitty solutions as wll as detecting obstacles on runways. FOD problems (Debris)and birds making problems. We have hard ware but also software for increased security in all levels from intruders to computer hackers.
Hardware and components for improved airport security.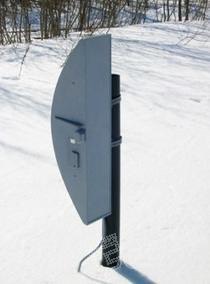 Left. Very long range hyper dynamic active laser camera. Maybe the only camera that can handle the combination of dense darkness and lamps in same wiev anmd still see with high image quality what is hidden behind there.
Right. Advanced last and radar perimeter systems with capability to see crawling intruders over long range. Range up to 500 meter for radar systems and 2500 meter for laser systems. Intelligent network interfaces and cameras that grab images of what caused the alarm.
Left. 3D laser radar systems for advanced area protection by objects shape and not by contrast as cameras only do.
Right. 3D ladar that detect FOD and objects on runways that can make damage of aircrafts. We see 10 mm objects at long range day and night by a laser beam. 
Left. Advanced 24/7 hyper dynamic WDR and see through fog camera systems with short and long range. Built in image processing fo best image quality in hard conditions.
Right long range PTZ camera and automatic ID systems that work and follow objects with capability to see personal ID at long range by Protectomatic functions. Thermal + visible operation and ID reader with 300 meter in range
Automatic long range RFID / Telemetric systems for ID controll and personal health controll of own staff. We have very advanced but simple solutions here that ad security and make life easier on an airport.
Protectomatic is a own part of this where we have sensors and network that make security dramatically improved at airports. Here we have total controll about who is there and is this OK. We offer a 100% automatic 100% controll of this in a user friendly way with highest level of security and redundancy.
Right. Long range thermal camera solutions that can detect persons at up to 10 kW in range in a 24/7 operation. Unique is that we always have very large diameter of lenses to get a better contrast that what small diameter thermal cameras can offer. Resolution and contast are kley numbers of any camera and we have the costly but far better large diameter and good F -Number optics.
Special datasheets about our airport solutions
FOD grabber a solution that see FOD / Debris on unways by a scanning laser radar system
FOD Grabber detailed installation infomation of the complete system
Tests at Arlanda by FOD grabber prototype to see resolution and performance of the system
FOD grabber resolution tests in simulated ways
FOD Grabber installation ideas on an airport.